PolyXeta®2
Gas Alarm Systems for Industry
MSR-Electronic develops innovative gas sensors and controllers for industrial applications where extreme environmental conditions prevail. When handling with hazardous substances such as methane (CH4) or oxygen (O2), special safety precautions are essential to detect and immediately indicate the life-threatening gases.
The products, services and training courses are based on many years of experience and have been compiled with a great deal of know-how and in accordance with individual customer requirements.
H2 Gas Monitoring
for research, production, logistics and mobility
There are numerous applications for hydrogen as the energy carrier of the future. Apart from its use in welding or as fuel for rockets, the focus is currently mainly on the automotive sector. Hydrogen combustion engines or fuel cells are expected to replace fossil fuels in the foreseeable future. No local exhaust gases are produced when hydrogen is burned, only water. H2 is a very reactive gas, which makes constant monitoring by a gas warning system throughout its life cycle absolutely essential. During research work, on test benches and during the production of the gas, leaks can occur at any time and cause catastrophic damage in case of ignition. Warning systems must also be installed during transport and at filling stations to protect people and equipment from this highly flammable gas.
Gas warning systems for petrochemical industry
Safe protection against CH4 / C5H12 / C3H8 / H2S / O2 / CO / NH3
In the chemical and petrochemical industry, permanent monitoring of rooms and plants in which explosive or toxic atmospheres can form is required. Personal protection requires the monitoring of hazardous gases in accessible areas, on the one hand to prevent accidents, and on the other to comply with MAK values and thus guarantee the health and safety of employees. In addition, MSR-Electronic offers solutions for the protection of your plant against unwanted gas leakage and thus financial loss. Furthermore, process safety can be further optimized with gas detectors from MSR-Electronic.
Gas Warning Systems for Biogas Plants
Reliable protection against CH4 / H2S / CO2 / O2
MSR-Electronic offers intelligent devices for the expansion of process optimisation and operational reliability of biogas plants.
Early detection in hazardous areas can prevent damages or contain existing ones.
When operating biogas plants, personal protection and plant safety along with process optimisation are of decisive importance. MSR-Electronic offers intelligent devices to extend the process optimisation and operational safety of your biogas plant. With the products of MSR-Electronic you work preventively against dangers. In addition to state-of-the-art technology, MSR-Electronic also offers consulting and analyses to perfect the safety of your plants, e.g. leakage can be localised at an early stage.
Schematic diagram: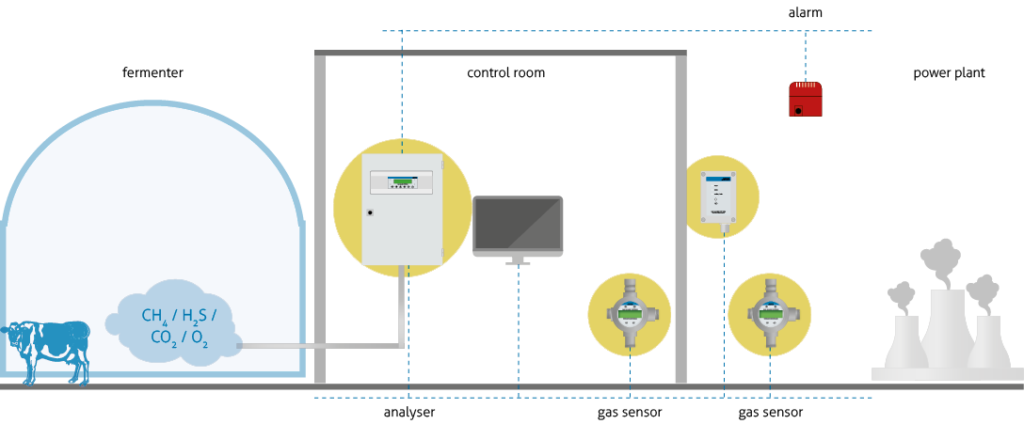 Products:
Fixed gas warning systems for measuring combustible and toxic gases and oxygen
Type: PolyXeta®2 for Zone 1 and Zone 2
To the products:
Complete product range with all features is available in the MSR-Shop 24.
Gas Warning Systems for the Producing Industry
Reliable protection against O2 / H2S / CO / CO2
Health-endangering gases are used in many manufacturing industrial companies. To effectively protect workers in these areas, the ambient air must be continuously monitored for concentrations of toxic gases or the dangerous decrease in oxygen content.
To the products:
Complete product range with all features is available in the MSR-Shop 24.
Gas Warning Systems for the Waste Disposal
Reliable protection against CO2 / H2S / Hexane / Benzene / Toluene
Employees in the utilities and waste management industry are exposed to risks due to gas in many areas. In sewers, a decrease of oxygen in the breathing air can occur, whereas in disposal sites toxic or explosive gases can arise. In addition, it may be necessary to detect damages or leaks in pipelines.
To the products:
Complete product range with all features is available in the MSR-Shop 24.