Optimize the Processes
Individual solutions for complex applications with PolySam®.
With MSR-Electronic you profit from comprehensive analyses and thus optimize your yield of energy generation.
Benefits and features:
More safety: More than required by all national standards
Exchangeable sensor (X-Change): Significantly lower maintenance costs
Better plannning with overall lower costs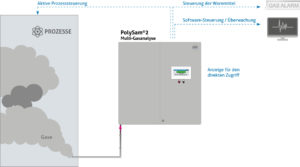 Optimize the yield of energy generation
With the complete solutions by MSR-Electronic you are always on the safe side. Your system can be monitored and optimized locally as well as by remote control via computer.
The evaluations of all gases are temperature, humidity and pressure compensated. Thanks to targeted flushing with fresh air the lifetime of your plant will increase significantly.
Product PolySam®2: